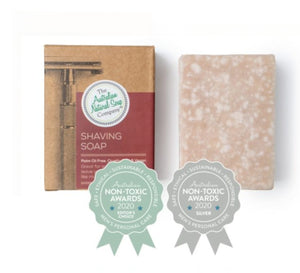 Ideal for men and women.
For those wanting to start the day with rays of sunrise and smiles. The delicious scents of our Solid Shaving Soap create a sweet sunshiney-smell. 
This bar makes a rich lather with very little water. Creates a smooth, slippery surface for your razor to glide across. Saving your skin from painful nicks and cuts. 
-Coconut, grapeseed, and macadamia oils so won't dry your skin
-Combined with ginger, rosemary and rosewood scents
-Shaving cream in a no-toxins solid bar
-No harm to you, animals or the environment
-Natural alternative to squirty shaving creams served in plastic bottles

Ingredients: Saponified Macadamia Oil, Saponified Grapeseed Oil, Saponified Macadamia Oil, Ginger Root Oil, Rosemary Flower oil, Rosewood Wood Oil
All-Natural Solid Shaving Bar
Solid shaving bars are a great, simple alternative to bottled shaving creams which are, more often than not, filled to the brim with harmful chemicals. The ingredients in these creams are likely to strip the skin of important natural oils and can even harm the skin's natural defence barrier.
Our natural shaving soap is an entirely toxin-free shaving cream, in solid bar form. We use a blend of Australian plant and essential oils which not only protect the skin from damage, but help nourish and moisturise at the same time. This mixture of oils produces a thick, creamy lather which will have you wishing you'd left those bottled shaving creams behind a long time ago. With no toxins and no plastic waste, our Australian shaving soap is a clear win for you and for the environment. 
Switch over to truly plastic-free skincare with our shaving Solid Natural Soap bars and witness the benefit to your skin almost immediately! 
Details:
Approx. 8x6x3cm (100g)

Paraben-free, sulfate free and biodegradable

Unisex – can be used by both men & women

Uses pure plant oils so won't dry the skin 

Ingredients

: Saponified coconut oil, saponified grapeseed oil, saponified macadamia oil, ginger oil, rosemary oil & rosewood oil.
Features:
Comes in plastic free packaging that is compostable and recyclable

Hand-made in Melbourne, Australia 

Certified palm-oil free with the Orangutan Alliance

Certified cruelty free with Choose Cruelty Free

Vegan

Certified Australian Made with Australian Made.
FAQs:
Does this shaving soap smell?
Yes, our shaving soap smells of ginger, rosemary, and rosewood. It's a zesty scent that is suitable for both men and women. We fragrance our scented products using pure essential oils, allowing you to experience full aromatic bliss without the stress of skin-irritating perfumes! 
Where can I use this shaving soap?
Our gentle, cruelty-free formula is safe to use on any body part that you can shave. Use it on your face, arms, legs, and wherever you choose to shave without worrying about irritation. 
We lovingly hand-make our all-natural soaps. We designed them to cleanse the skin of impurities without the use of harsh ingredients like parabens and sulphates that are known to dry and irritate the skin. Instead, we use high-grade Australian plant oils that leave skin clean and moisturised, thanks to our slow-set soap making method that preserves the healing properties of the oils.
How can shaving cream come in a bar?
Our Shaving Solid Soap bar generates a rich lather with very little water. This lather creates a smooth, slippery surface for your razor to glide across, saving your skin from painful nicks and cuts. Our luxurious mix of saponified coconut, grapeseed, and macadamia nut oils moisturizes your skin with each use. 
How do I actually use it?
To use this bar, all you need to do is rub the soap in your palms and work up a lather. Then, just apply this to the areas you wish to shave. Alternatively you can apply directly to wet skin.
How much plastic can it possibly save?
Using a solid soap shaving bar creates enough lather to last a LONG time. By making this one simple switch, you can save dozens of plastic bottles and cans throughout the year. 
That adds up quickly to substantially less landfill waste and less pollution in the ocean! Our biodegradable packaging and eco-friendly formulas mean that with one small change, you can do our planet a HUGE favour!
How should I store my soap to get the most out of it?
We recommend keeping your soap out of the water as much as possible. Our formulas are rich in plant oils, which react to water – that's what gives the soap its cleaning properties, after all! 
Unnecessary exposure to water will dissolve your bar more quickly. The same goes for leaving your soap in a steamy, unventilated shower.
Tip:
Vegetable and plant oils create a very thick yet moisturising lather. This will help reduce any irritation caused by the shaving process! Many people don't realise that much of the sensitivity they experience after shaving is actually due to the harmful chemicals in the ingredients of bottled shaving products. 
Using a solid shaving bar instead of shaving cream is one of the easiest eco swaps going around and it's so much better for your skin!