Collection:

Woohoo Natural Deodorant
The Woohoo All Natural Deodorant Paste does the hard work of keeping you fresh and B.O free, so you can focus on moving your body in ways that make you feel freaking amazing.
100% natural. Guaranteed to work. Australian, Vegan and Cruelty free. These deodorant and anti-chafe sticks come in a cardboard stick instead of plastic and work wonders!
Woohoo Deodorant and Anti-Chafe Stick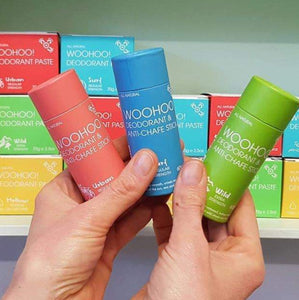 Woohoo Natural Deodorant Tins