Collection:

Stainless Steel Pegs
Long lasting, strong hold, plastic free pegs you will never replace!
Made out of extra strong 304 or marine grade stainless steel, our peg are made from a continuous piece of metal meaning they will not break, warp or bend.
If taken care of properly they will last a lifetime unlike plastic pegs which need constant replacement and end up in our environment.
They are easy to use and don't mark your clothing.
Choose from a 20 pack or 40 pack in a calico bag or buy bulk for larger quantities.
304 grade steel has a high nickel content which makes them resistant to rusting. In most regions 304 grade pegs can be left on the line and will not rust.
If you live near the sea we recommend marine grade pegs which are rust proof.
Reasons to Switch
Save money: Plastic and wood pegs are prone to breaking and rusting. These pegs will last a lifetime and start to save you money in the first year or use.
Extra strong: These pegs hold better than regular pegs on the market.
Less plastic in the environment: No more birds stealing your pegs which results in pegs in our waterways and environment. When disposing of plastic pegs they are not recyclable and end up being more plastic in our landfills.
Recyclable: It is doubtful you will ever need to get rid of these pegs as they serve many purposes but if you have reason to dispose of these pegs, stainless steel is recyclable. We recommend you pass them on to someone else though!
Easy to use: They slide on the line easily and hold clothes properly.
Stainless Steel Pegs - Marine Grade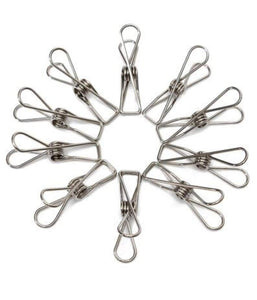 Stainless Steel Pegs - 304 Mixed Pack
Stainless Steel Pegs - 304 Grade 1.8mm