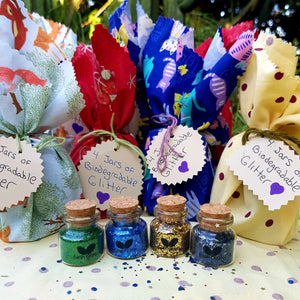 Choose your 4 favorite glitters and have them packed with love in cute reclaimed fabric packs.
For a little fun, choose Glitter Pop and we will add some loose but chunky (not too messy!) glitter in the pack for that extra wow factor.
Perfect gift or stocking stuffer for your earth loving friends and family.
Please include in order comments your colour preferences and if you want a glitter pop surprise included!