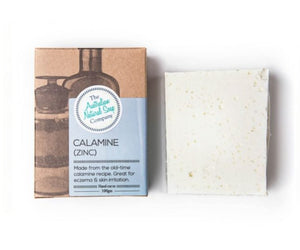 Calamine (Zinc) Soap will foam, froth, fizzle and ripple. But it'll never go bang, pop or bust making your skin itchy, irritated or dry. 
We believe your skin has a right to live a life of freedom. Fresh, clean and super soft. All courtesy of Mother Nature.
-Blend of 3 natural vegan ingredients: olive oil, castor oil and zinc oxide
-Safe for all skin types, especially beneficial for those with dry, irritated or itchy skin. Yep, we're talking eczema, dermatitis and psoriasis
-Fragrance free yet somehow smells delicately divine.
Ingredients: Saponified Castor Oil, Saponified Olive Oil & Zinc Oxide.
Congratulations on taking one of the easiest steps possible in reducing your household waste and going plastic free!
It's not just that our natural soap will be replacing a product that would traditionally come in a plastic bottle but our bar soaps are more concentrated and use less water – meaning a little goes a long way (True fact: liquid soap is mostly water!)
Our all natural soaps have been lovingly handmade to cleanse skin of impurities without the use of harsh ingredients like parabens and sulphates that are known to be drying and irritating on the skin. Instead, we use high-grade Australian plant oils that leave skin clean and moisturised thanks to our slow-set soapmaking method that maintains the healing properties of the oils.
Our scented products are fragranced using pure essential oils, which means you can experience full aromatic bliss without the stress of skin irritating perfumes! We are certified cruelty free and we do not use palm oil, making every one of our products vegan friendly! We are also Melbourne made.