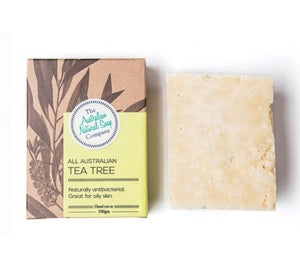 Tea Tree is a tiny, graceful tree with heavyweight powers. Scientifically backed benefits, this plant has several reasons for being one of the best. Our All-Australian Tea Tree soap naturally keeps skin, hair and nails healthy.
-Great cleanser for all skin types
-Olive oil naturally nourishes and moisturises skin
-Boosts wound healing, reduce inflammation and fights acne
-Tea tree oil provides natural antiseptic, antifungal and antiviral properties
Ingredients: Saponified Olive Oil, Australian Tea Tree Oil
All Australian Tea Tree Soap
Congratulations on taking one of the easiest steps possible in reducing your household waste and going plastic free!
It's not just that our natural soap will be replacing a product that would traditionally come in a plastic bottle but our bar soaps are more concentrated and use less water – meaning a little goes a long way (True fact: liquid soap is mostly water!)
Our all natural soaps have been lovingly handmade to cleanse skin of impurities without the use of harsh ingredients like parabens and sulphates that are known to be drying and irritating on the skin. Instead, we use high-grade Australian plant oils that leave skin clean and moisturised thanks to our slow-set soapmaking method that maintains the healing properties of the oils.
Our scented products are fragranced using pure essential oils, which means you can experience full aromatic bliss without the stress of skin irritating perfumes! We are certified cruelty free and we do not use palm oil, making every one of our products vegan friendly! We are also Melbourne made.